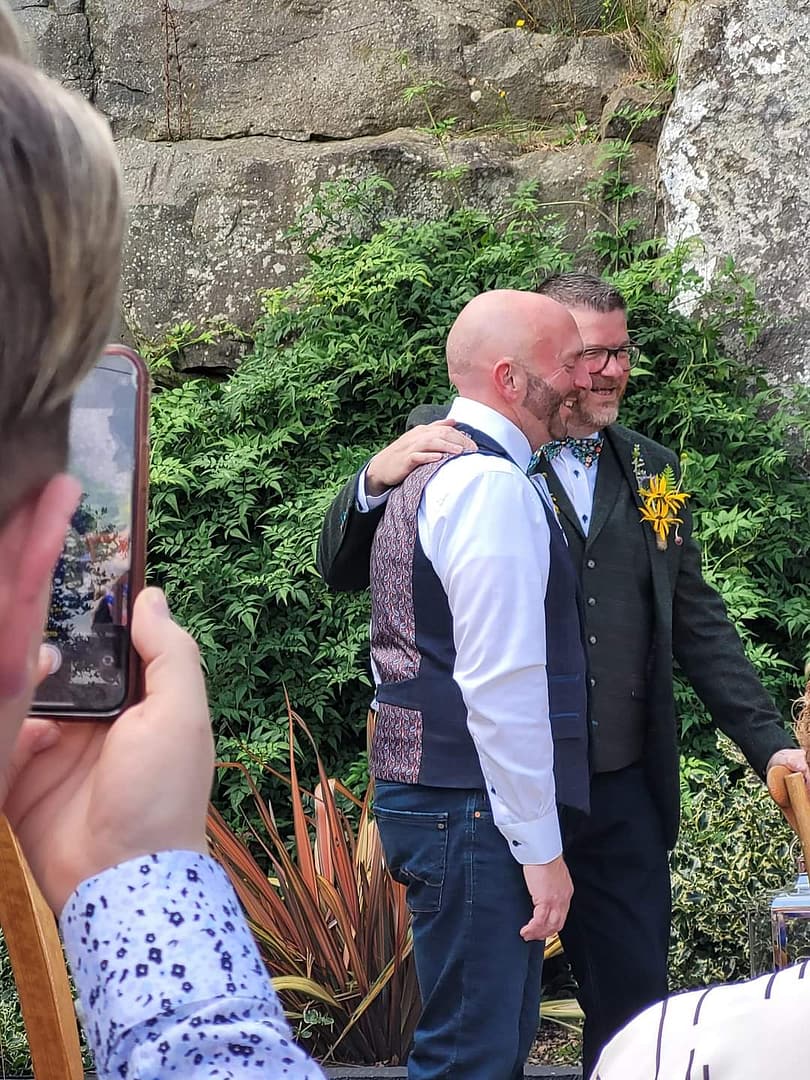 I am very privileged to be ordained within a denomination that allows me to officiate at same sex weddings, indeed I have been honoured to officiate at a number over the years of my ministry. Last Saturday ( 2nd Sept. ) my wife, Kay and I travelled to Northern Ireland to attend the wedding of my dear friend Alister Bell and his husband Colin. Alister as well as being a friend is also a ministerial colleague, we studied for ministry side by side. I was honoured to read at his ordination and be amongst the clergy to lay hands on him. Last Saturday was one of the few occasions I get to attend a wedding without it being " work" and it was a wonderful experience just to sit in the congregation and take the whole wonderful experience in. The " work" was done by my colleague the Rev. Chris Hudson.
And it was wonderful, two men, deeply in love, totally committed to each other through good times and bad, total trust and respect. It was wonderful to see them hold hands, exchange vows and rings, share a kiss and before God be declared as husband and husband. The love between them was tangible, it inspired us all to be grateful for the gift of love in our lives. I'm sure more than one couple squeezed the hand of their significant other!
It was wonderful to see over 100 guests of all ages celebrating their wedding, wishing them well and sharing in their happiness. This evening I reflect that as a minister I support and have done and will continue to officiate at same sex weddings. But, I am also left a little sad that I and my denomination are in the minority upon the landscape that is church on the island of Ireland. Further I am left deeply saddened by those who persist in the notion that marriage should be based along lines defined by gender but even more so by those who cloak their views in the mantle of what they call " God". As I sit here this evening reflecting on a fantastic day filled with so much love, happiness and goodwill I can only conclude that the God of my belief is a different being altogether. Long live my God, long live love!